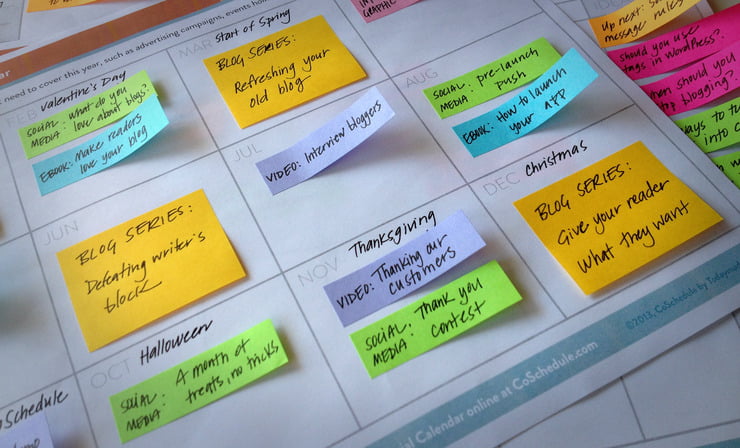 Creating and publishing content for any organization can be overwhelming. Without a way to organize and manage your online content – think blogging, e-mail marketing and social media – your content marketing program may fail to meet your specific goals. A successful content marketing campaign requires a stellar content strategy, and with that comes the creation of a content calendar.
A content calendar helps you develop your editorial strategy, organizes the way you create and curate content, and includes a structured timeline. Here are four ways utilizing this powerful tool makes life easier:
 Keeps your marketing efforts organized
This is worth repeating. A content calendar houses all your content in one place. Whether you plan a week in advance or months in advance, a content calendar contains your content strategy in its entirety.
We suggest organizing your content calendar in Excel. Depending on the volume of content you plan to publish, create a separate sheet for each month. Within each month you can further break down content planning by weeks and days.
Prepares content in advance
Facebook has this great feature that reminds you when it's your friend's birthday. A content calendar works similarly, as it helps you prepare and plan important content so you never forget an important post – like remembering to recognize a national holiday.
Preparing content in advance allows you to "set it and forget it." This means you can utilize tools like Hootsuite to automate your content publishing to maintain your online presence without tying up resources.
 Aligns content with seasonal trends
With the assistance of a content calendar, you can strategically time the content you're sharing to align with seasonal trends to maximize your marketing efforts across the board. This includes any dates that are important to your business – holidays important to your industry, product releases, or campaign launch dates.
Makes approvals easier
A content calendar allows your public relations team to plan and create content more efficiently, and in bulk. This means busy business owners and executives can review and approve content in batches, resulting in fewer interruptions with daily or weekly requests.
For all our Content Marketing Programs, our team creates a content strategy and calendar that helps organizations stay top-of-mind with the people who matter. Contact us to learn more.