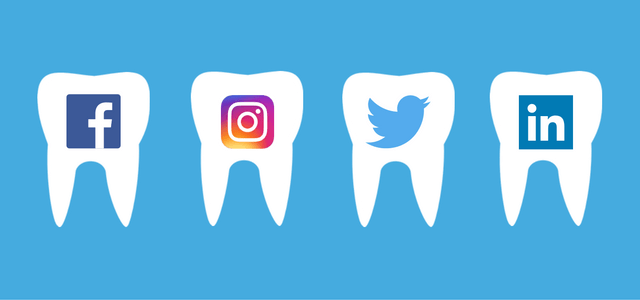 For many dental professionals, social media is unfamiliar territory. There are several aspects of social media that inhibit dentists from using it, the most common being that they don't know where to start. But, having a social media presence can have a significant impact on your practice's PR and marketing outreach. For instance, social media can assist in building brand awareness, increasing sales or even generating new leads – something we've seen happen firsthand with one of our dentist clients through Instagram.
Whatever might be keeping your dental practice from experiencing the benefits of social media, here are four easy tips for making social media work for you.
1. Choose the right social media sites
Don't assume you need to have a presence on every social media site. It's best to focus your efforts on sites that support your content marketing efforts, help accomplish your goals and most importantly reach your audiences. If you're unsure which social media sites are right for your dental practice, consider the facts and features of each platform here.
2. Build your following
The most successful social media accounts aren't necessarily the ones with a large fan base, but it certainly can help. The social media site(s) your dental practice is using will determine your strategy for building your following. Almost every social media site has adapted to using hashtags, so incorporating relevant hashtags into your posts – where hashtags are appropriate – will make you visible to your audience and those who may want to follow you. Another way to build your following is through using social media advertising, such as Facebook advertising.
3. Showcase your work through before-and-after photos
A strategy we've found to be successful for one of our dentist clients is sharing before-and-after pictures of cosmetic dental work. We've seen high rates of engagement on these posts because it prompts people to react. They might see a before picture that's similar to their own situation and comment. Sometimes, the difference between the two pictures is so significant that people will express their amazement in the forms of likes, comments and shares. Whatever your dental specialty is, find a way to showcase that through social media.
4. Create fun content
Going to the dentist can be a scary experience for some. Creating posts that are fun can lighten the mood and calm the nerves of your current and potential patients. These types of posts can also dispel any misconceptions people might have about going to the dentist. And it's a great way to get the conversation going and increase engagement. A few examples of fun content are creating posts around relevant holidays, dental quotes, dental tips and memes.
When used correctly, social media can be a powerful tool for your dental practice. If you're looking to take your social media to the next level or would like to generate more publicity for your practice, contact us to learn more about our Healthcare PR & Marketing services.