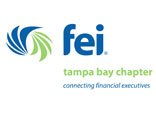 Enhancing FEI's Visibility and Reputation in the Business Community
T
he Financial Executives International Tampa Bay Chapter is a private association for senior financial executives from public and privately held firms, serving over 150 members in the Tampa Bay area. Their leadership contacted us because there was a general lack of awareness in the business community about FEI. The group was also looking for ways to better connect with their membership and create a more collaborative, engaged chapter body.
"We were having trouble branding our organization, defining ourselves in the community," said Brian Adamski, FEI Chapter President. "We needed to get our name out there, get our pictures in the paper, but we finance people don't really have the skillset needed to make that happen. We also wanted to enhance the connection our members felt with our leaders, sponsors and each other."
O
ur team began by listening to FEI's challenges, clarifying what the leadership was aiming to accomplish through marketing and PR, and understanding the inner workings and nuances of the chapter. This ensured the activities we recommended were on target with supporting the organization's goals and would fit into the existing structure and available resources.
We engaged in an ongoing program that included both external and internal public relations activities. Although opportunities for publicity are rather limited for FEI because of its specialized niche, our proactive, highly successful media relations program garnered dozens of news placements in local publications – including the Tampa Bay Business Journal, Tampa Bay Times, The Tampa Tribune and the Business Observer – in just one year.
"We've received tangible feedback from people who have seen us in the press, particularly those who hadn't been involved in the chapter," said Brian. "They would say things like, 'Oh, I didn't know FEI did this,' or, 'I didn't know you were part of FEI.' We've touched people we haven't touched before. We consider that measureable feedback in terms of getting our name noticed in the community."
And to enhance communications and involvement among chapter members, we create and distribute an html chapter e-newsletter every two months. News items include a message from the president, upcoming events, links to online photo albums from past events, committee updates, industry news, and member-contributed news. FEI's chapter e-newsletter now has an average open rate that's 35% higher than the industry average.
"W
orking with True Blue Communications has impacted our organization by increasing membership, building positive awareness, showing our chapter in a good light in the community, and creating chatter and buzz in the business community about what FEI is and what we are doing," said Brian.
"Their team has brought fresh ideas to the table, in recommending things we haven't thought about and exposing us to avenues previously unexplored. If you are looking for structure for your branding or public relations programs, True Blue can help guide you and show you best practices to elevate your PR initiatives."